Make Up Tips For Glasses Wearers with Bobbie Brown
/
April 6th, 2018
/
There are currently 0 comments
Learn how to frame your eyes with Bobbie Brown
Internationally loved make up guru Bobbie Brown has solved the eye make up struggle for all glasses wearers. Bobbie Brown believes everyone should be able to style amazing eyes and with her Behind the Glasses Makeup Lessons, these are complementary on all make up counters. She's covering ALL bases for our fellow specs wearers. Here is her advice on everything makeup and eyewear. Let Bobbi solve your struggles:
Article via Bobbie Brown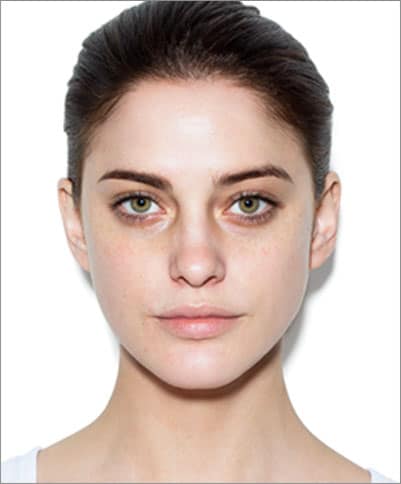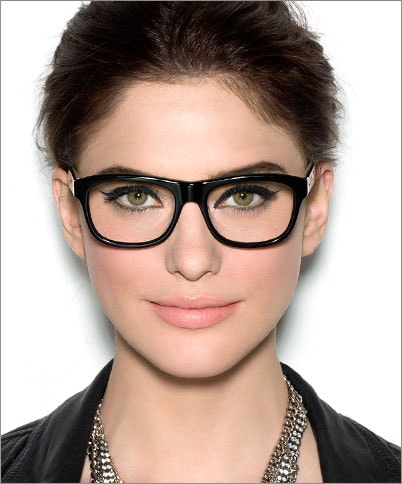 BEFORE                                                                                          AFTER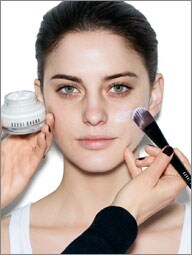 STEP 1
SKINCARE
Apply Hydrating Eye Cream or Extra Eye Repair Cream to prep under eye area. Allow cream to absorb completely before apply makeup.
STEP 2
CORRECTOR & CONCEALER
For under eye darkness and discolouration, start with Corrector; use a Concealer Brush for precise application. Layer Creamy Concealer one shade lighter than your skin tone directly over the Corrector. Apply as close as possible to the lash line, and also on the innermost corner of the eye. Gently blend with your fingers.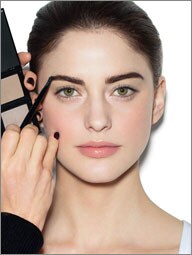 STEP 3
BROWS
Wearing glasses can highlight your brows, so start by tweezing any stray hairs. Choose a powder Eye Shadow or Brow pencil that matches your hair colour to define the brow. Using the Eye Brow Brush or Eye Definer Brush (if you have sparse brows), apply shadow in light feathery strokes from the inner to outer corners of the brow.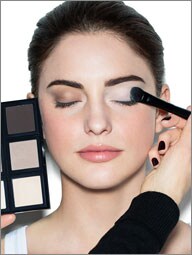 STEP 4
EYE SHADOW
Sweep a neutral Eye Shadow that doesn't conflict with your frames over the entire lid, then apply a complementary shade to the eye crease and blend. Highlight the brow bone with a light, matte Eye Shadow. Layer a sparkle eye shadow on top for a pretty gleam.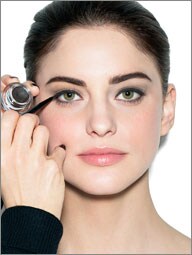 STEP 5
EYE LINER
Choose an Eyeliner shade darker than your eye colour. Make sure liner on the upper lashline is thick enough to be visible when eyes are wide open. Liner on the lower lashline should always be softer and thinner than liner on the upper lashline. Top and bottom liner should meet at the outer corner of the eye. If your glasses enhance the size of your eyes, apply to the upper lash line only.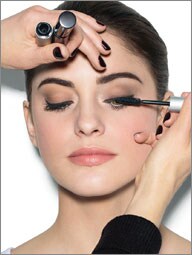 STEP 6
MASCARA
Curl lashes, then apply 2 to 3 coats of mascara, brushing from base to tips of lashes. Roll the wand as you go to separate lashes and avoid clumps.
BOBBI'S TIPS
Put on your glasses after each step to check results and correct any imperfections. For an evening look with glasses, smudge the upper lash line with Long-Wear Eye Pencil and the Smokey Eyeliner Brush for extra drama.
Our Verdict
As a glasses wearer myself one of the best tips i have found is definitely not to over do eye make natural looking with neutral colours that complement the colour of the your frame is always best. Another simple little tip to stop your glasses slipping down your nose when you're a little greasy or sweaty is to use a little bit of eyeshadow primer or finishing powder on the bridge of your nose. It works perfectly!
We'd love to hear how you get on trying these make up tips, comment below how you find them or tag your own before and after on Instagram or Facebook.
Pin It