5 Of The Best Winter Sun Destinations
/
February 8th, 2018
/
There are currently 0 comments
The Best Winter Sun Destinations according to Ellie
By the time March comes around we all feel like we haven't seen the sun or felt that glorious heat for a long time. Lets be honest we also that extra Vitamin D and a feel good tan.
Sunglasses on, soaking up the rays, on a palm fringed sandy white beach with a cocktails or an ice cold beer in hand sounds like perfection at the moment doesn't it?
Ok we've convinced ourselves that a must need winter beach holiday is due but the question is where is sunny and hot when it is freezing cold in the UK and most of Europe? So I have rounded up 10 of the best winter sun destinations for your getaway, including some destinations where I have visited this time of year.
Thailand
The best time to travel is from November to early April, during their dry "cooler" season making Thailand one of the best winter sun destinations. I visiting Thailand in February and I don't recall seeing a cloud in the sky for the whole holiday! With an average of 32C, the most incredible beaches, endless gorgeous street food and of course the best massage in the world, made me fall in love with Thailand. From London it takes approximately 11 hours to fly to but it is worth the long flight! Here are some of the pictures I took during my time there (can we just take a moment to admire the perfect clear blue water)

   2. Tenerife 
The Canary Islands are one of Europe's most reliable winter sun destinations with temperatures rarely dropping below 20C. Just a stone through away compared to most other winter sun getaway with a short flight time of just 4 hours.  Tenerife is the largest island out of the Archipelago, famed for its beaches and nightlife in Costa Adeje and Playa de las Americas.
   3. Seychelles
The Seychelles Islands are an archipelago of 115 islands off the East Coast of Africa in the Indian Ocean. Known for its clear crystal blue waters and idilic palm tree backdrop. There isn't much of temperature drop throughout the year in the Seychelles it is beautiful hot all year round. The only consideration to make is the rain. During the UK winter it is classed as rainy season however their rainy season is literally short spells of warm rain that last for about 30 minutes then clears up to gorgeous clear sunshine again, not like UK rainy season! The drier months are a lot more expensive so if you can deal with a little bit of rain in a tropical dream destination at a cheaper rate then this is the winter sun destination for you.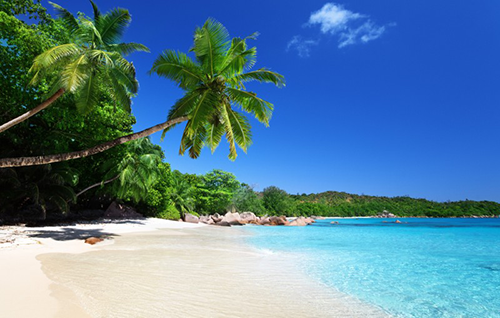 4. Miami
The Florida Keys better known as Sunshine State. No clues needed as to why it has this nickname! The constant sunshine and average of 28C all year round makes Miami and South Florida a huge contender for you winter getaway. I went to Miami at the end of December and the weather was glorious, turquoise warm waters and clear skies. While I was there the temperature was 30C a little too hot to be sightseeing was our excuse for constant sunbathing drinking strawberry Daiquiris. Bliss.
   5. Antigua
It's hard to go wrong when choosing a Caribbean Island to escape the UK winter. With very little rainfall and 365 beaches to choose from Antigua is a winning Island for us. Dry season is classed as the best time to go which is between December and May, however this is also and extremely busy time. I know of a few people who have visited Antigua and would really recommend going just before busy season starts. End of October/November could be a perfect time to visit with less crowds, still no rain but the beach to yourself. Below is an image my Mum took whilst she was there at the end of October 2017
Our Verdict
How do you choose between all those idillic pictures. We can't, but getting away from the dull, miserable UK weather during the winter months can be a huge boost, literally just what the doctor ordered. There are many more hot destinations we haven't mentioned such as Australia, Dubai, Maldives, Hawaii, Cambodia to name a few! Don't forget to consider all your options these are just our top5.
All this talk of holidays has got me wanting to book another, I think personally for my next winter getaway we will visit a Caribbean Island. The music, the food, the rum and the weather is definitely calling.
Pin It